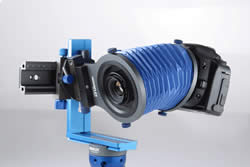 It's ideal for architecture and nature macro photography. The BALPRO T/S tilt/shift Bellows by Novoflex can be used on many cameras: nearly all 35 mm and many medium format cameras up to 6 x 7 cm

Advertising

3 focal lengths are available:
• Componon S 4.0/80 mm
• Componon S 4.0/100 mm
• Componon S 4.0/150 mm

These three lens heads allow adjustment to infinity with all cameras: 35 mm SLR cameras require the 80 mm lens head, the Mamiya 645 the 100 mm lens head, and Hasselblads the 150 mm lens head. The setting for 35 mm cameras ranges from infinity to 1.8x enlargement.
Technical data:
Length: 200 mm
Width: 185 mm
Weight: 975 g
Order code: BALPRO T/S
price (M.S.R.P.): EUR 779.00
The Novoflex BALPRO T/S is available immediately at selected stores.
[Novoflex]
[via photographyblog]
Filed in Photo-Video..
Related Articles