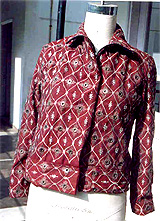 "A shock treatment is in store for those who try to molest women on streets.
Two students of the garment manufacturing technology programme of the National Institute of Fashion Technology (NIFT) have designed a unique anti-molestation jacket, which comes with a handy protection device for the wearer if someone tries to attack her.
The electric gadget concealed inside the jacket is capable of releasing a current of 70 to 100 volts and can be activated at the press of a button attached to the waistband." (tribuneindia.com)
I'm sure it's going to be a hit in subways around the world…
"This results in repelling any attack by giving the aggressor a shock as soon as he comes in contact with the jacket. Provisions have been made to ensure that the wearer does not get hurt in the process. The electric circuit, hidden in a mesh of wire attached to the inner lining of the jacket, is activated only when the wearer wants it to. Insulation protects the wearer from any shock.
The two designed the jacket when they were students at the NIFT in Kolkata. They are now working as garment technologists in Gurgaon-based and Faridabad-based companies.
The technology is the one used in the electric baton, developed by the DRDO for the use of riot police."

[tribuneindia.com]
[via popgadget]
This article was filed in .